Truck driver who 'killed' ACP nabbed near Delhi's Vasant Kunj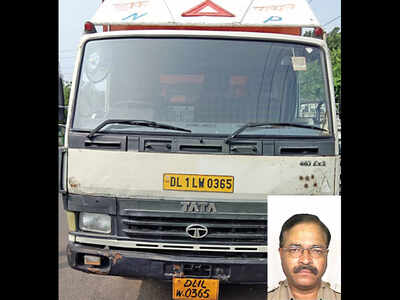 The truck that crushed ACP Sanket Kaushik (inset) near the Rajokri flyover
NEW DELHI: The driver who had allegedly hit and killed ACP (traffic) Sanket Kaushik near the Rajokri flyover with his truck was caught from the Rangpuri area near Vasant Kunj on Saturday. Police say that the driver, Amit Pulami (28), is an alcoholic and is being interrogated to find out whether he had hit the cop intentionally.
After crushing Kaushik against a jersey barrier in the service lane, Pulami drove the truck towards the airport and parked the vehicle at a cargo bay where he hid for three hours. The next day, he parked the truck at a garage in Rangpuri and went into hiding.
Earlier, six police teams were formed to identify the truck.
Details of all the trucks with similar body and colour that passed through the toll tax booth at Delhi-Haryana border, NH-8 were collected and about 50 vehicles were examined. Movement of vehicles at all the warehouses in Rajokri, Mahipalpur, Kapashera, Samalkha and Bijwasan areas was also checked.
"While scanning CCTV footage, it was found that the vehicle came from Rangpuri towards Gurugram through the service lane and took a U-turn under the Rajokri flyover and moved towards the place of incident," said a police officer.
"A vehicle of similar dimensions was found to have left a warehouse near Rangpuri around the same time. The truck was finally identified and found to be parked at a garage in the same area and Pulami was arrested."
During interrogation, the driver told the cops that he was heading to the IGI cargo area at a high speed and hit the ACP who was walking on the right side of the road.
When he noticed the senior officer's staff members chasing him, he fled. He then parked the vehicle at the cargo parking area and examined the damage. He later drove to a garage where he got the vehicle repaired the next day.
Pulami told the cops that he is a resident of Nepal and had come to Delhi two years back.
He has been booked under sections of causing death due to negligence and negligent driving.
The truck has been impounded from the garage.