Fauquier SPCA gives animals – from goats to Labradors – a 2nd chance for a happy ending
There's a saying in journalism: Everybody has a story worth telling.
For Fauquier SPCA executive director Devon Settle and her staff, "everybody" includes dogs and cats… and goats, pigs, sheep and chickens. Each has a name, a unique personality and a backstory.
Buckwheat, a 200-pound hog that the county's animal rescue workers dropped off at the Casanova facility, has an interesting tale to tell. He was seen walking across U.S.
29 in Opal Feb.
21. Although he's not talking, the prevailing theory is that he fell off a truck on the busy highway, picked himself up and meandered over to BBQ Country, where they called his rescuers, animal control officers from the Fauquier Sheriff's Office.
Perhaps it was ill-advised to seek help at BBQ Country, but … any port in a storm.
Buckwheat, a 200-pound hog, has an apple for a snack.
Photo by Robin Earl
Buckwheat was pretty beat up from his ordeal.
He had what Settle called "road rash," particularly on his back end, and had difficulty walking. He still avoids putting any of his considerable weight down on his left hind foot.
"He was in bad shape," said Settle. "From his injuries, it looks like he may have bounced. When he first got here, he wouldn't get up.
I didn't think he was going to make it."
Settle's worried tone changed to baby talk as she gave Buckwheat a scratch. "Lots of times, pigs are not nice. But this one is very sweet."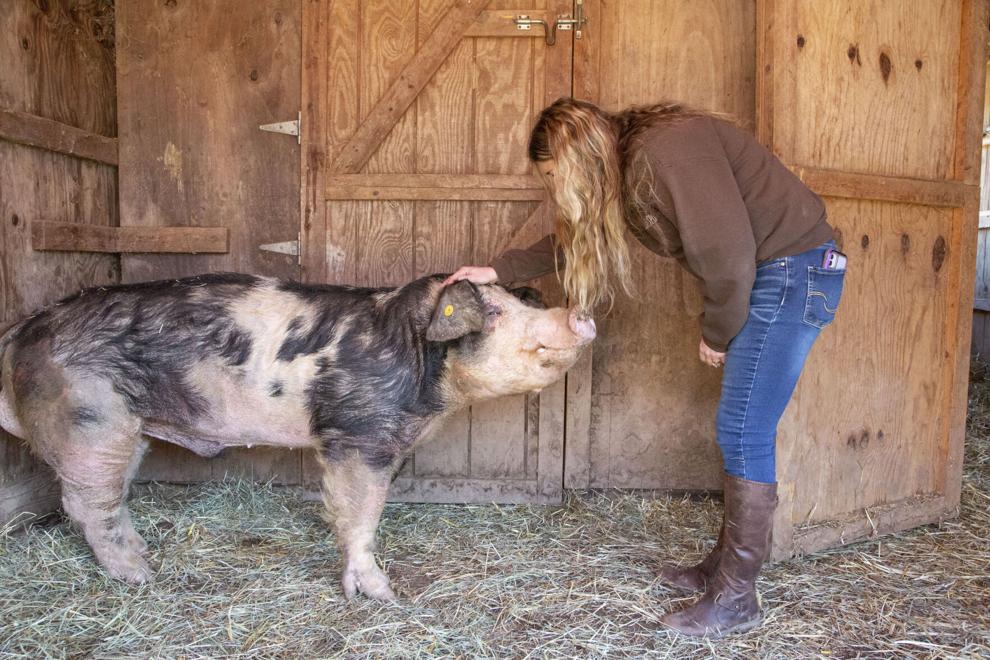 SPCA Executive Director Devon Settle says good morning to Buckwheat, who she thinks fell off a truck in Opal Feb.
21.
Photo by Robin Earl
Master Deputy Sheriff Marisa Efaw, the animal control officer who helped bring Buckwheat in, stopped by the SPCA Thursday to visit the hefty pig. Considering the trauma his body suffered, Efaw remarked that it was probably adrenaline that spurred him to walk across U.S.
29 to the surprised folks at BBQ Country.
At the very same spot on U.S.
29 a month earlier, two other refugees were picked up – a goat and a sheep. Alex Vacek of the SPCA said that they were found with motor oil all over them and that it took three hours and four deputies to wrangle the skittery pair.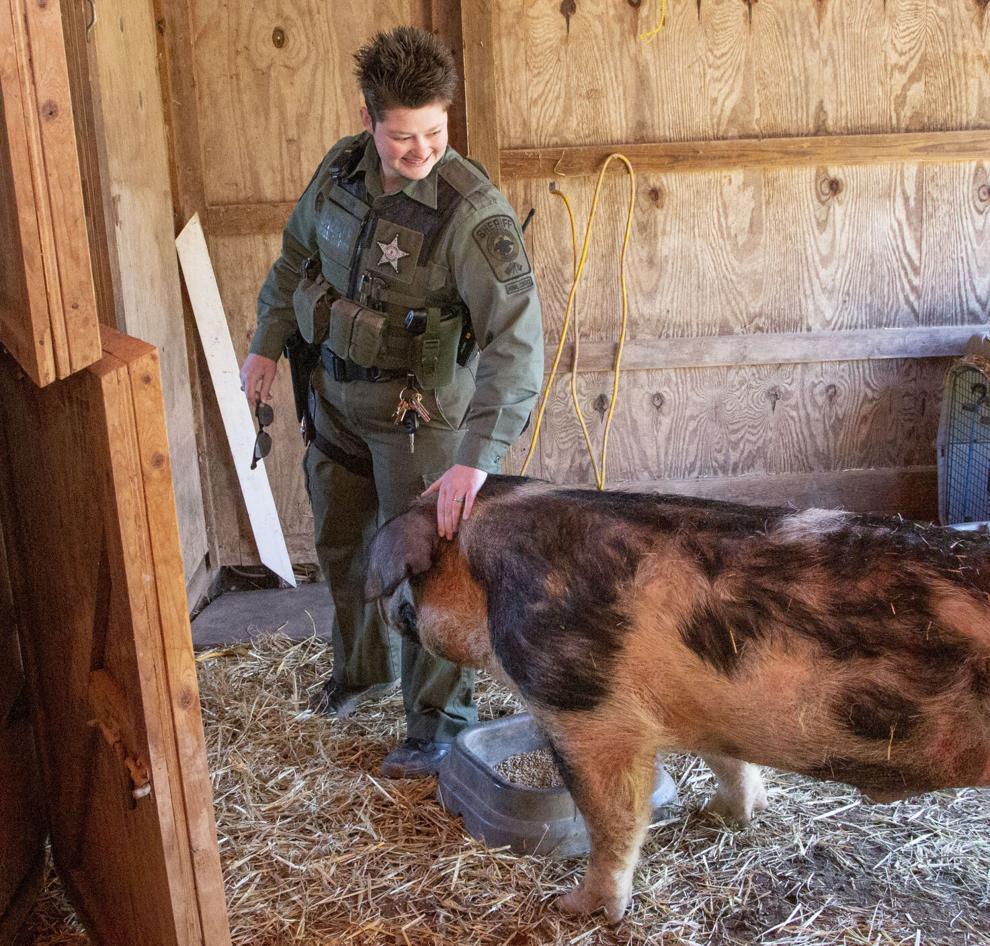 DMS Marisa Efaw of the Fauquier County Sheriff's Office Animal Control Unit stops in to see Buckwheat.
Photo by Robin Earl
Since named Lenny and Squiggy, the goat and sheep are both 1-year-old neutered males. Settle said that both animals had pneumonia when they were found.
Settle said, "When they first got here, they were absolutely clinging to one another.
They refuse to be separated." The sheep is apparently more timid than his bestie; the goat appreciates belly scratches.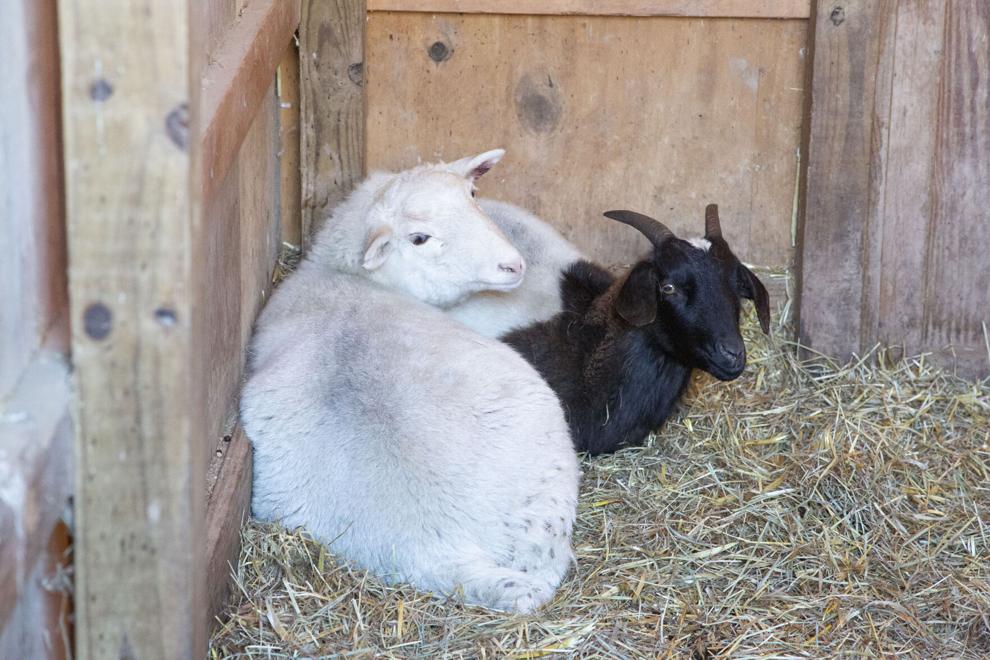 Lenny and Squiggy were adopted on Feb.
25.
Photo by Robin Earl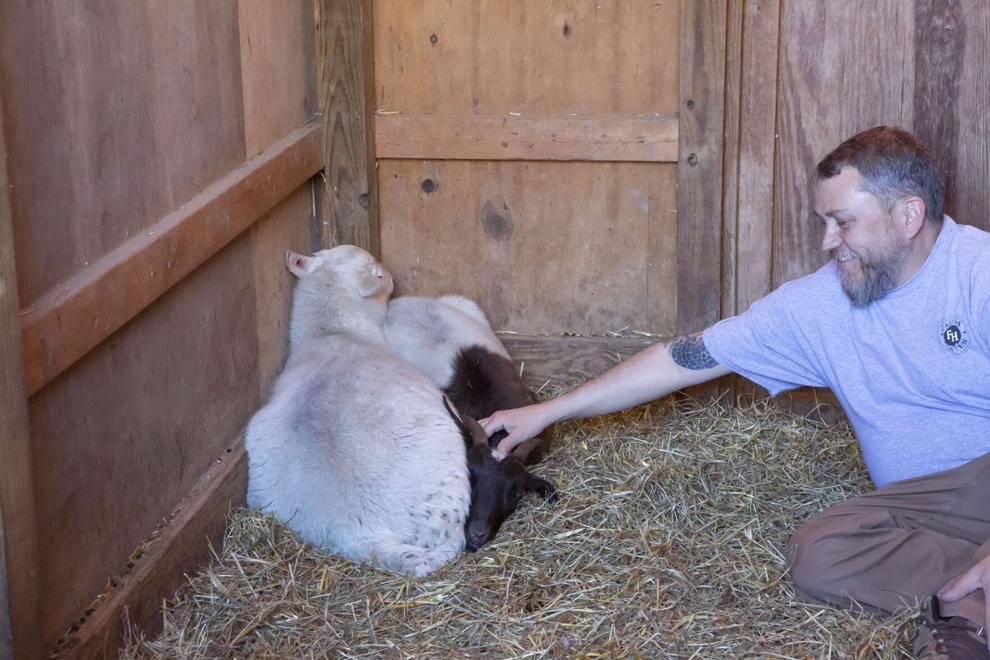 Adam Collins, new dad to Lenny and Squiggy, greets the adoptees.
Photo by Robin Earl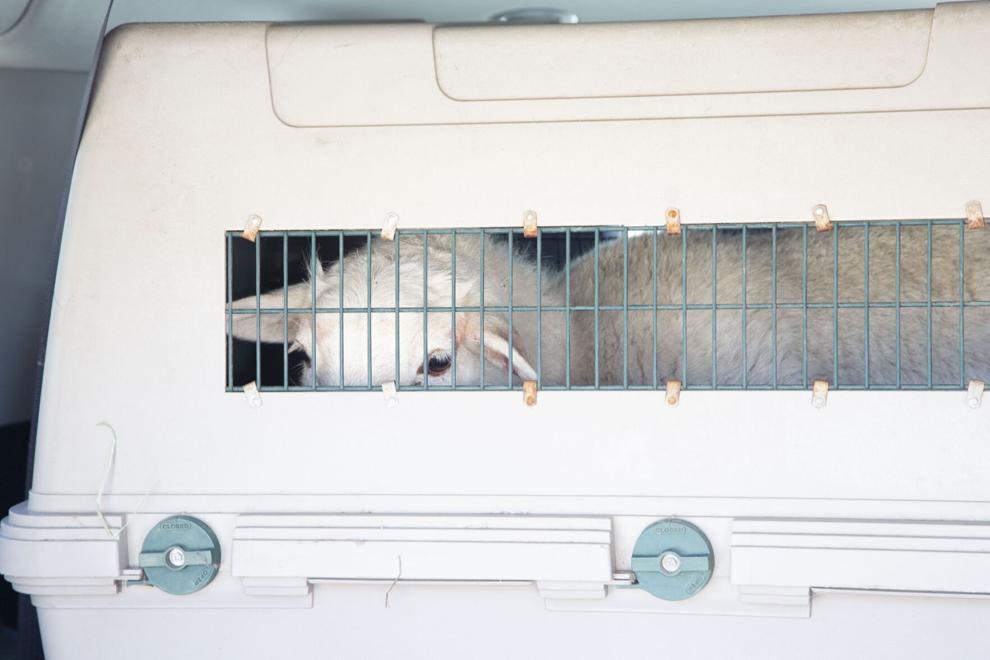 Heading off to Fauna Haven in Standardsville.
Photo by Robin Earl
Vacek agreed, "They absolutely love each other."
"Oddly enough, they really seem to like dogs, but they are still a little nervous around humans. They've come far since we first met them but their forever people will need to be patient and give them some time to fully realize their potential," she said in an SPCA Facebook post introducing the pair.
On Thursday, their "forever people" arrived to take them home. Adam and Jay Collins drove from Standardsville in a truck just barely big enough to fit the two pens housing Lenny and Squiggy.
The couple and their two children – Cora, 14 and Tessa, 13 — spent some time in the SPCA's barn, trying to coax the pair out of the corner where they lay one on top of the other. The back half of the goat is the same color at the sheep, so it was difficult to tell where one ended and the other began. Adam Collins was able to get close enough to scratch the goat's ear.
The family is vegan. Adam Collins thought it was particularly appropriate that they were the ones to bring Lenny and Squiggy home. "It's a little fairy tale-ish that maybe we saved them from the slaughterhouse."
The Collinses have an Airbnb called Fauna Haven that features a 20-acre farm with a barn already populated with a miniature donkey, a mule and 11 chickens.
Day-to-day at the SPCA

Other barnyard animals housed at the SPCA include two goats (Sharon and Tim) and a pot-bellied pig (Buckwheat – apparently a popular name for pigs) who live permanently in the petting zoo area of the facility.
Settle said that when the goats arrived, "We fell in love with them" – an oft-repeated phrase at the SPCA.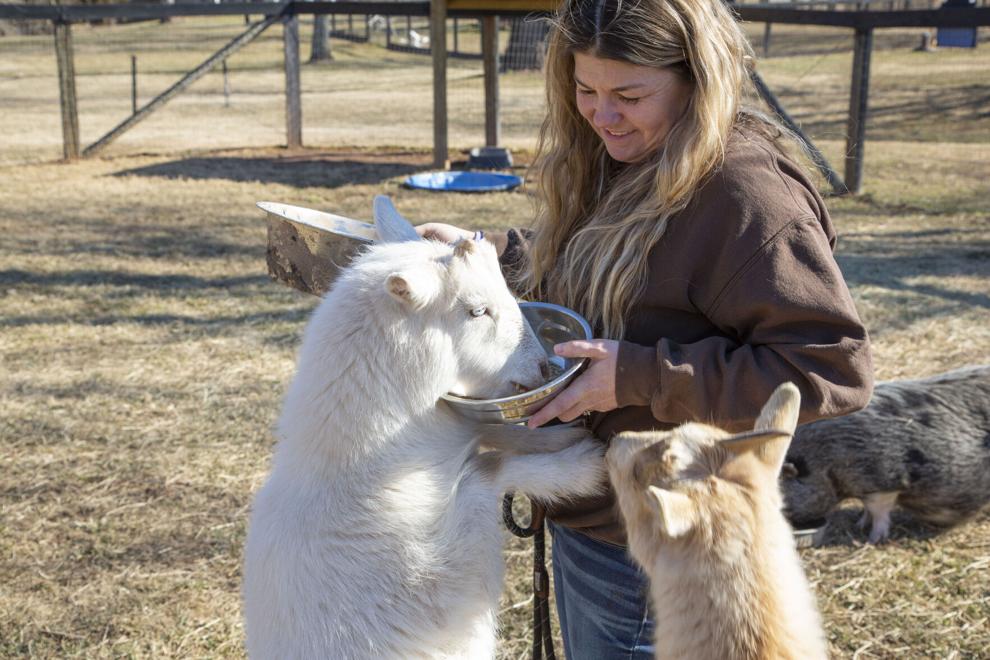 Devon Settle feeds goats Sharon and Tim in the SPCA's petting zoo.
Photo by Robin Earl
She decided that since some of the cats and dogs that wait at the SPCA to be adopted can be potentially dangerous for children to interact with, she wanted to have animals that children could pet while visiting. The petting zoo inhabitants flocked to Settle when she entered the enclosure, and she cooed and laughed while she gave them a meal.
Elsewhere on the grounds, dogs on leashes were being walked by staffers and volunteers. Some had their behaviors gently corrected so that they will be better pets for their future owners.
One 5-year-old Labrador mix named Rook was scheduled for a "meet and greet" with new potential owners on Thursday.
Settle told his story: "When his owner surrendered him, he was really shut down. They brought us a bottle of anti-anxiety pills for him. He was scared and fearful.
We worked with him for a couple of weeks; he's a different dog now. He's fine."
Nero is an 8-month-old cane corso mix. As she gave him some exercise in the large fenced-in exercise area, Vacek said the energetic dog "still needs a little polishing on his manners."
During the day, several different Doberman pinschers walked on leashes around the perimeter and ran around in enclosures.
The SPCA is caring for a number of dobermans that were seized from their owner. The dogs will stay at the SPCA until the criminal and civil cases are sorted out.
Dr. Jana Froeling performs surgery in the SPCA clinic.
Photo by Robin Earl
In the midst of all this activity, Dr.
Jana Froeling was performing surgery in the SPCA's clinic surgery. The SPCA operates a low-cost spay and neuter clinic for residents of Fauquier, Culpeper and Rappahannock. Settle emphasized that the services are meant for those who would otherwise be unable to afford to have their rescued pets sterilized.
The clinic also offers "wellness" services like distemper or rabies shots, nail clipping and microchip insertions for a charge.
Incoming puppies

Interrupting all this activity last Thursday was the excitement over an incoming "flight" of dogs – each with their own as-yet-unknown story — set to arrive at or about 11:45 a.m., depending on the tailwind.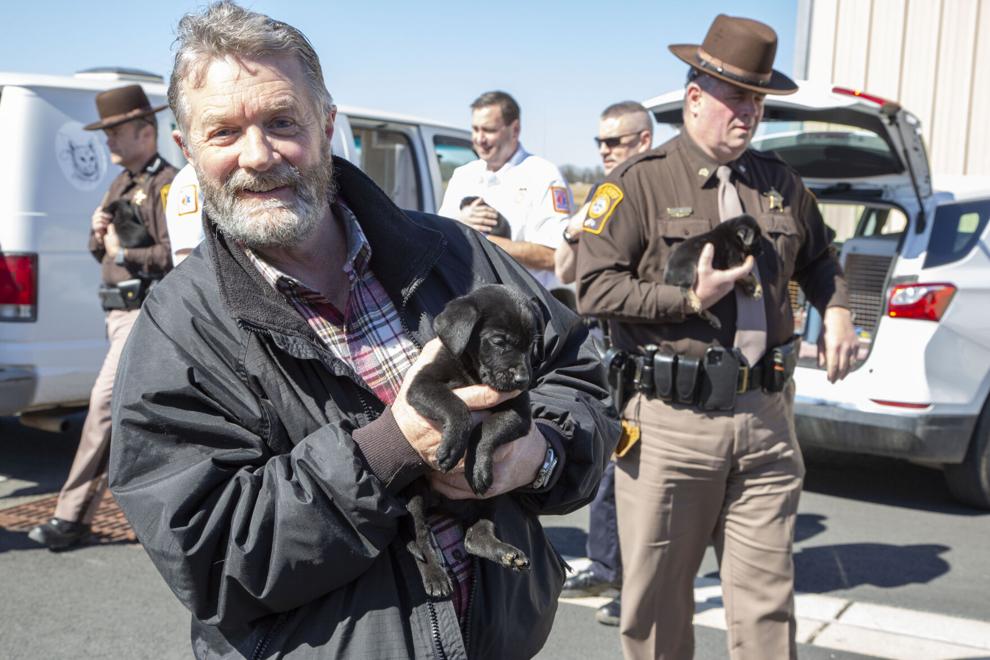 Fido's Freedom Flights pilot Jeff Locke helps out with one of the six tiny puppies he flew from Tennessee.
Photo by Robin Earl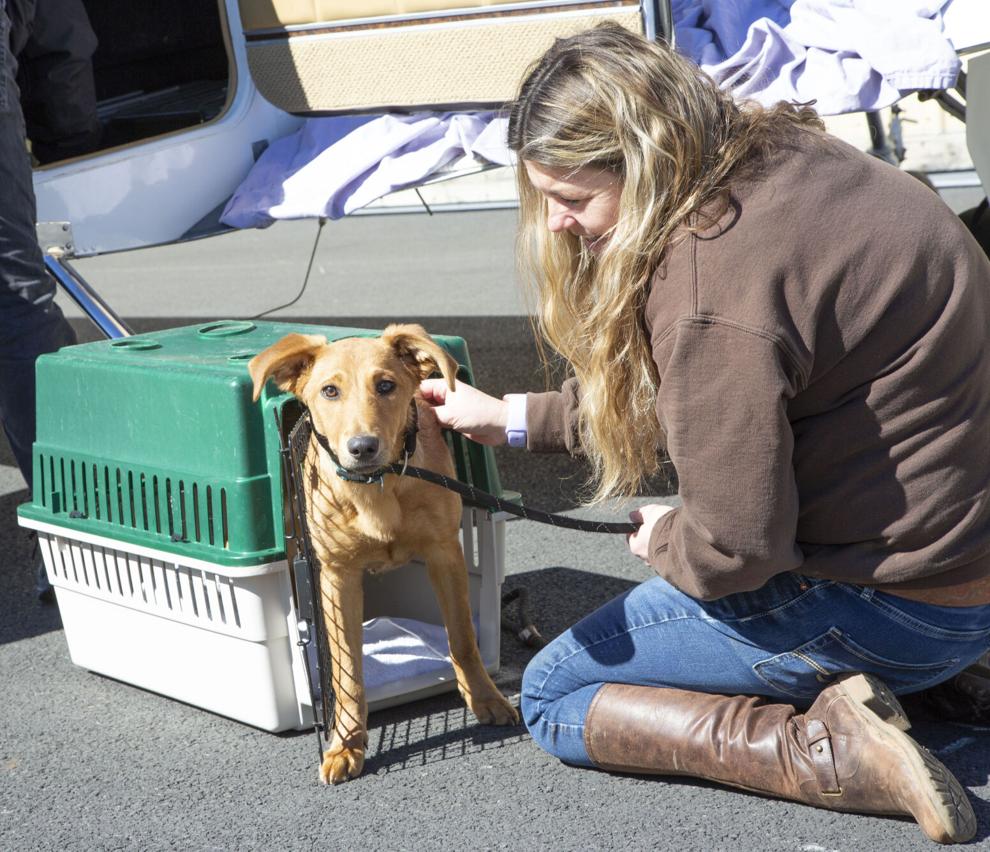 Devon Settle gives one of the Fido's Freedom Flights dogs a first look at the Warrenton-Fauquier Airport in Midland.
Photo by Robin Earl
The Plains pilot Jeff Locke of Fido's Freedom Flights landed at Warrenton-Fauquier Airport in Midland with his Beechcraft Bonanza F-33A plane carrying six dogs and six tiny puppies.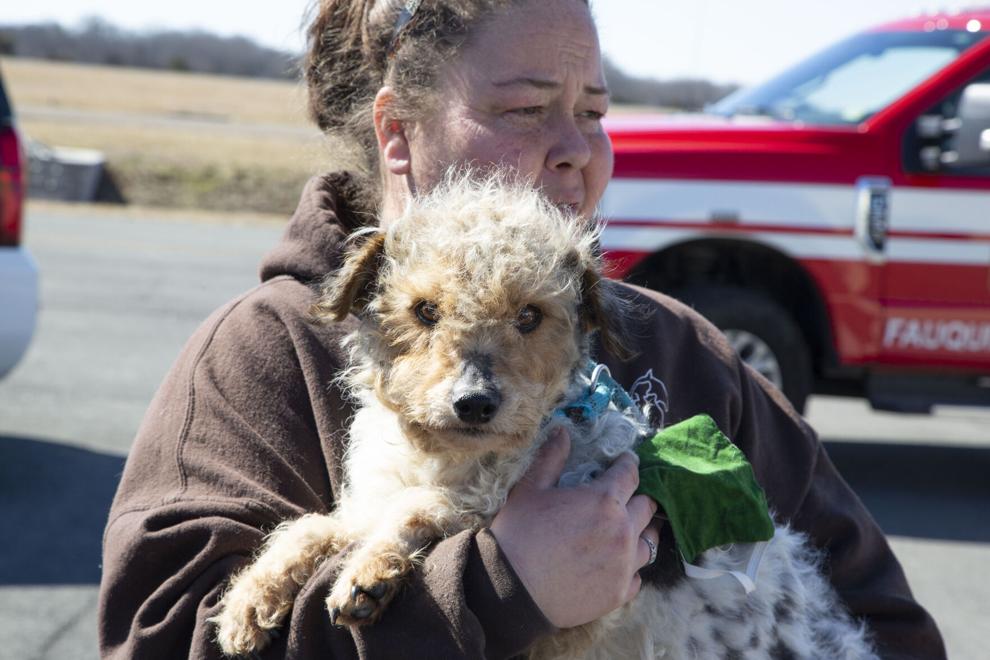 Emily Cross of the SPCA welcomes one of the dogs from Tennessee to Virginia.
Photo by Robin Earl
Fido's Freedom flights is a program to bring animals from overcrowded shelters to facilities that have room and resources to care for them.
Locke's Thursday flight to and from Johnston County Airport in Tennessee was dedicated to Fauquier County's law enforcement officers and first responders. A handful of sheriff's deputies and first responders from the county's Department of Fire and Rescue and Emergency Management gathered to commemorate the day, but the stars of the event were the dogs. Each officer grabbed a canine for the photo op, but had to be reminded to look up and smile for the camera; they were preoccupied snuggling their charges.
The dogs showed how happy they were to be in Fauquier by promptly pooping on the tarmac.
Settle rushed to clean up the deposits, laughing and acknowledging, "It wouldn't be a normal day if it didn't include dog poop."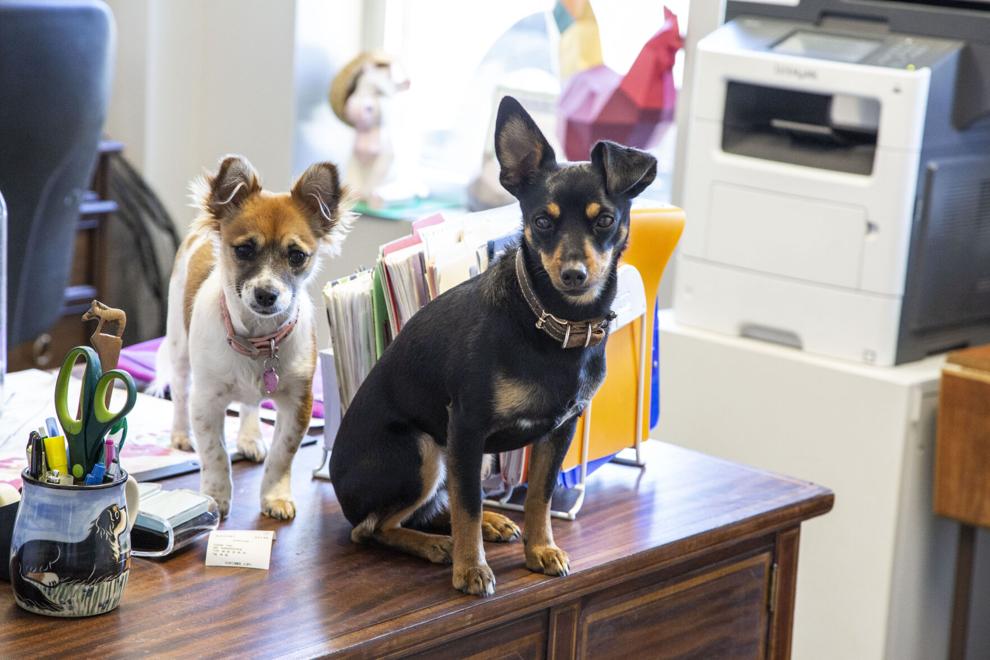 Devon Settle's dogs Pebbles and Bam Bam spend some time in her office at the SPCA.
Photo by Robin Earl